Contract Development & Manufacturing Organization (CDMO)
We Help Bring Your Life-Changing Healthcare Solutions to the Market
Novex Innovations is a CDMO dedicated to bridging the gap between discovery and patient care by facilitating the translation from research to commercialization.
Solutions for Your Success
The healthcare environment is complex and ever-changing, with evolving regulations, increasing costs, and growing competition. Speed, reliability, and quality is critical.
Novex Innovations is here to help you take your products to clinical trials and market quickly. To streamline your supply. To increase predictability and manage risk. We are a partner you can rely on to provide solutions for your success.
Committed to Making Your Ideas a Reality
Our team will work with you at any stage of the process to provide you with the expertise you need.
Our 36,000 square-foot facility has the capacity—and the state-of-the-art equipment—to take your project from early-stage development through commercial manufacturing and distribution.
Watch our 1-minute video to learn more about us.
Full-Service CDMO Capabilities
As a full-service CDMO, Novex offers fully-integrated, end-to-end solutions. Whether you require some or all of our services, you can rely on Novex to get you from where you are now to where you need to be in the future.
We'll guide you through the Novex Innovations process to ensure your product gets to your market. Success for us is when you, as our partner, are fully satisfied. We continuously improve and innovate to exceed your expectations and contribute to your success.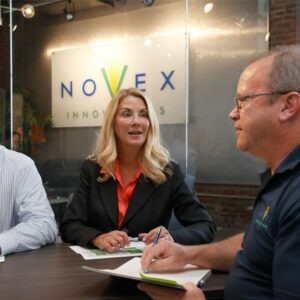 A partnership built on reliable expertise and excellence.
Novex Innovations' leadership and team have been a joy to work with on a complicated biologic development project over the years.
Would you like to start a project with us?
The best way to discover if Novex Innovations is the right fit for you is to speak with us. Reach out. We'll be happy to talk about your project and goals.